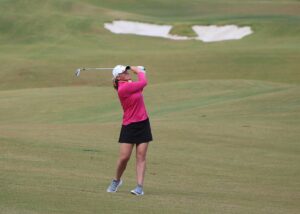 The Amateur Golf Alliance "AGA" Women's Amateur Championship presented by Roberts Oxygen and Gana Dunlap commenced today at Texas Rangers Golf Club in Arlington, TX. The national amateur tournament drawn has top players from across the country, playing in two divisions, with divisions for both amateurs and seniors.  USGA Mid-Am Champion Lauren Greenlief of Ashburn Virginia vaulted to the top of the amateur division with a stellar round of 4 under (68).  In the Senior division, Daniel Kay of Covington, Louisiana shot the only round under par in the division after going around in two under par 70.
After the cool, rainy and cloudy conditions set in for the day, University of Virginia golf alum Lauren Greenlief's round consisted of five birdies and a lone bogey en route to a four-under 68. "I played really solid, hit a lot of fairways and greens then made all the makeable putts, pretty low pressure…where I really built some momentum was on ten and eleven where I had birdie putts 4 feet or less," stated Greenlief. 
The 2015 Mid-Amateur Champion Greenlief is no stranger to this event having won the inaugural 2020 AGA Women's Amateur Championship at The Dye Preserve Golf Club and placed 2nd at last year's tournament at Forest Creek Golf Club's South Course. 
Three back of Greenlief sits two players Ket Preamchuen Vanderpool from GA and Shannon Johnson of North Easton, Massachusetts. Vanderpool the assistant coach of the Georgia State Women's golf team played a very solid round totaling three birdies and two bogies to come out to a one-under 71. As for Johnson, she too played a relatively clean round totally the same, 3 birdies and 2 bogeys. Right behind them and currently in at even-par is TCU golf alum and current UTA Head Women's golf coach Catherine Matranga and Amanda Jacobs of Portland Oregon. Having been with the UTA team in some capacity since 2016, Matranga knows a thing or two about the course this week as it was adopted as the home course for the UTA men's and women's programs when it opened in 2019.
In the senior division, the clubhouse leader is Kay Daniel of Covington Louisiana. Kay showed a lot of resiliency firing a two-under 70 that included six birdies, a double, and two bogies. "The putter was really working today, and the greens were rolling true.  I had the benefit of playing earlier and did not have to deal with the rain as much as some of the field," stated Daniel.
Sitting right behind Daniel is Corey Weworksi of Carlsbad California at even par. After a smooth one under par front nine, it was a rollercoaster finish as she tallied a 1 over 37 on the back that included 4 bogies and 3 birdies. After Weworski there is a four-way tie for third at one over par as Susie Keane, Ellen Port, Maggie Leef, and Pamela Kuong all shot 73 on day one.
In total the stroke average for the championship flight was 76.4 while the seniors were 78.4. The hardest hole on the course across both divisions was the par fourth 12th which played at a 4.75 stroke average and the easiest hole was the par 5 first which played at a 4.84 average and included 21 birdies. There were 7 scores that were par or better and 18 rounds over 80.
Most notably, The Texas Rangers golf club has played host to the Veritex Bank Championship a stop on the Korn Ferry Tour and hosted a plethora of other talented amateur events. In addition, it has become the home of the UTA Men's and Women's golf teams boasting a 23-acre practice area and a double-ended range.
Amateur Golf Alliance: The "AGA" was established to support and promote the amateur game via competitions providing amateur golfers throughout the globe more opportunities to compete at national and international events, and fund research and initiatives that will enhance the landscape of competitive amateur golf.  The AGA has provided financial support for members of the United States practice squads for both the Walker Cup and Curtis Cup teams.  Golf Genius Software is the Global Partner of the AGA.
The second round will begin at 8 am tomorrow you can follow along here: www.amateurgolfalliance.com