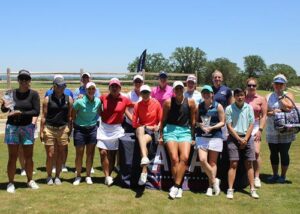 The Amateur Golf Alliance "AGA" Women's Amateur Championship presented by Roberts Oxygen and Gana Dunlop wrapped up tournament play this afternoon with bunched-up leaderboards ever-changing in each division. The inaugural champion of this event, Lauren Greenlief went wire to wire after defeating Allison Gonring of Cincinnati, Ohio in a one-hole playoff to claim the 2022 title. In the senior division, distinguished golfer Ellen Port squeaked out the win by making birdie on her last hole to claim the victory over Kathy Hartwiger. 
It was the nicest day for players all week as the sunshine was out and lower breezes. Gonring, a Toledo Women's golf team walk-on took full advantage of the conditions firing a day's best round of 68 that included a four-under 32 on the back nine. The 2012 Ohio Women's Amateur champion played stellar golf but lipped out for par on the first playoff hole to give Greenlief the trophy. The 2015 Mid-Amateur champion took home another title after posting a round of one over 73. She held the lead throughout the tournament never wavering even after checking where she stood on the 54th hole. "I took a look at where I needed to be and I saw that there was a round of 68 posted, so I knew I at least had to make par on the last." After missing her approach to the left side of the green, Greenlief hit a great putt to secure the par and stay in the playoff. In the playoff, Greenlief played very solid golf hitting both the fairway and green, then two-putted for par to lock up the victory after Gonring missed her par putt. When asked what this win meant to her, she said, "It means a lot to me, to get my first win of 2022 I've lost in a couple of playoffs so far this year…I think this event does a lot for the mid-am game… it's really special." The University of Virginia alum now adds another AGA trophy to her case and becomes the only two-time winner of the event now in its third year of play. 
After Greenlief and Gonring, Gretchen Johnson of Portland, Oregon, and Martha Leach of Hebron, Kentucky came in at four over for the tournament and tied for third. While Lila Thomas, Catherine Matranga, and Amanda Jacobs rounded out the top five in a tie for fifth place at eight-over par. 
In the senior division, when the dust settled Ellen Port of St. Louis Missouri stood above the competition after firing a one-over 73 to complete her three-day score of three over 219. Port, the decorated amateur golfer posted a round that included three bogies, a double, and four birdies en route to her one-shot victory over charging Kathy Hartwiger of Birmingham Alabama. "The challenge I had was not looking back because I had a lot of opportunities over three days, putting gave me trouble, but I knew it was going to be close." Nonetheless ort hung in there after hitting sixteen greens today and totaling 36 putts. As it came down to the eighteenth all tied at four over par, the seven-time USGA Champion hit her best drive of the day on the hole, left herself 170 yards in, and made a good birdie putt to lock up the win. "This win is huge, my fellow playing competitors are not only unbelievable people, but I have so much respect for their game." She went on to say, "I am thrilled the AGA is putting on events like these because these ladies like to compete and I like to compete." 
Right behind Port and Hartwiger was Maggie Leef at five over, Corey Weworksi at six over, and Robin Krapfl at eight over who all finished in solo positions three thru five respectively.
In total the stroke average for the championship division was 76.6 while the seniors were 80.6. The easiest hole on the course across both divisions was the par-three eleventh which played at a 3.09 stroke average including 9 birdies and 45 pars while the hardest hole was the par-four twelfth which played at a 4.80 average and saw 25 bogies. There were five rounds under par and a low round of the day went to championship division runner-up Allison Gonring who posted a four-under 68.
The Texas Rangers Golf Club plays host to the Veritex Bank Championship a stop on the Korn Ferry Tour and hosted a plethora of other talented amateur events. In addition, it is the home of the UTA Men's and Women's golf teams boasting a 23-acre practice area and a double-ended range. 
Amateur Golf Alliance: The "AGA" was established to support and promote the amateur game via competitions providing amateur golfers throughout the globe more opportunities to compete at national and international events, and fund research and initiatives that will enhance the landscape of competitive amateur golf.  The AGA has provided financial support for members of the United States practice squads for both the Walker Cup and Curtis Cup teams.  Golf Genius Software is the Global Partner of the AGA.