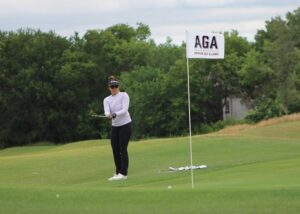 The Amateur Golf Alliance "AGA" Women's Amateur Championship presented by Roberts Oxygen and Gana Dunlap completed its second round of the tournament this afternoon as players made their push for positioning on moving day.  Lauren Greenlief of Ashburn Virginia stood strong through the difficult conditions to hold her position at the top of the championship division with a round of 77.  In the Senior division, Daniel Kay of Covington, Louisiana welcomed two new competitors at the top as Ellen Port and Maggie Leef, both joined her at two over for the tournament. 
The day started with a light drizzle which gave way to sunshine, blue skies and windy weather as players navigated the wet conditions from the previous nights down pour. The 2015 Mid-Amateur champion and solo leader in the championship division kept it together through the challenging circumstances. Greenlief's round included six bogies and one birdie. "I didn't play very well today, it was a little bit of a struggle with putting and ball striking, I just tried to hang in there. I hit some bad putts and a bunch of good putts that just barely missed, and I couldn't really get the ball in the hole. Hopefully, I can do a little better tomorrow" said Greenlief. 
One back of Greenlief is Gretchen Johnson of Portland Oregon. Johnson the three-time women's speed golf world champion who combines running with golf fired a one-over 73 which totaled four bogies and 3 birdies including back-to-back birdies on the sixth and seventh holes. Recently Johnson has been playing well, just this last month she took home the first-place trophy at the 2022 Ladies National Golf Association Mid-Amateur.  Behind Johnson is Martha Leach of Hebron Kentucky. Leach is no stranger to spotlight herself, the Georgia and Kentucky Golf Hall of Famer has played in over 60 USGA Championships including winning the 2009 Mid-Amateur title. After Johnson and Leach sits Ket Preamchuen Vanderpool from Georgia, Shannon Johnson of North Easton, Massachusetts, and Amanda Jacobs from Portland Oregon who are all four over and four off the lead. 
In the senior division, there is a three-way tie for first place as Kay Daniel, Ellen Port Maggie Leef all sit at two over for the tournament. Kay who started the day with a two-shot lead saw that slip away after shooting four over 76 with six bogies and two birdies. Both Ellen Port and Maggie Leef climbed up the leaderboard after rounds of one over 73 respectively. Port a member of the St. Louis Sports Hall of Fame and considered by most a golf legend with seven USGA titles on her resume. To put that in perspective Tiger Woods and Bobby Jones share the record for the most USGA titles at nine. "
Right behind Daniel, Port and Leef is Corey Weworksi in solo fourth at four over. Following an even-par 72 yesterday Weworksi completed her round today with two bogies, a triple bogey, and one birdie. After Weworski there is a two-way tie for fifth place at five-over held by Kathy Hartwiger of Birmingham Alabama and Mary Jane Hiestand of Naples Florida. 
In total the stroke average for the championship division was 78.5 while the seniors were 80.3. The hardest hole on the course across both divisions was the par fourth twelfth which played at a 4.74 stroke average and the easiest hole was the par 3 sixteenth which played just a hair over par at a 4.06 average and included 12 birdies. There were no rounds under par throughout the field and one lone round at even-par which belonged to Mary Jane Heistand of Naples Florida. 
The Texas Rangers Golf Club plays host to the Veritex Bank Championship a stop on the Korn Ferry Tour and hosted a plethora of other talented amateur events. In addition, it is the home of the UTA Men's and Women's golf teams boasting a 23-acre practice area and a double-ended range. 
Amateur Golf Alliance: The "AGA" was established to support and promote the amateur game via competitions providing amateur golfers throughout the globe more opportunities to compete at national and international events, and fund research and initiatives that will enhance the landscape of competitive amateur golf.  The AGA has provided financial support for members of the United States practice squads for both the Walker Cup and Curtis Cup teams.  Golf Genius Software is the Global Partner of the AGA.
The third round will begin at 8 am tomorrow you can follow along here: www.amateurgolfalliance.com