Dallas, TX: In just over a month, November 13-19 to be exact, Team USA will head across the pond to play in the 2022 Concession Cup. The USA team made up of six highly decorated Mid-Amateurs and six Senior golfers to take on the expanded GB&I and European team in the Ryder Cup style event. Team Captain Danny Yates, who's own amateur golf resume would earn him a position on previous years teams will lead Team USA. Alan Fadel, Bryan Norton, and Robert Gerwin will serve as Assistant Captains for the US squad. This year's Match will be conducted at the famed Real Club Valderrama, host site for the 1997 Ryder Cup and host for an annual Andalucia Masters a DP World Tour Championship. 
The US Team members earned their spots on the team through a system in which players received points for top finishes in selected national amateur championships. US Senior Amateur and Trans-Miss Senior Champion Rusty Strawn and 2023 Walker Cup Captain Mike McCoy lead a very strong senior contingent. Joining Strain and McCoy will be seniors, Robert Funk, Bob Royak, Mathew Sughrue and Doug Hanzel. The Mid-Am team members are Joseph Deraney, Evan Beck, Tug Maude, Mathew Mattare, Scott Turner, and Brad Nurski. Captain Yates said, "I am truly excited about our team both as players and representatives of the US game. It will be a great week of competition and camaraderie, that I know all of us look forward to." 
Alan Fadel, AGA President, stated, "that taking this event overseas was an important step, with the support of Golf Genius as our Title Sponsor, the event can happen. We are excited about the inclusion of the European players, our host Valderrama and the promotion of the amateur game around the world." 
 With the addition of European players, along with the two Irish finalist in the US Mid-Am competing for Team Europe, this year's version may be the most highly contested. Tore Sviland of Norway will lead the very deep and talented European side including national champions, former Walker Cup players and a seasoned group of past international competitors. Like Team USA the Assistant Captains for Europe have an impressive pedigree, assisting Sviland will be James Bunch (Scotland), Francois Illouz (France) and Gianluca Bolla (Italy). The senior representatives are Englishmen Stephen Jensen, Rupert Kellock and Trevor Foster are joined by Martin Birkholz (Germany), Mattias Pernheden (Sweden) and Jody Fanagan of Ireland. The Mid-Am members are led by the Irish contingency of Mathew McClean, Hugh Foleyand and Caolan Rafferty. Moises Cobo (Spain), Leon Breimer (Germany) and Gregoire Schoeb (France) round out Team Europe. 
You can follow the match results at AmateurGolfAlliance.com starting Wednesday, November 16th.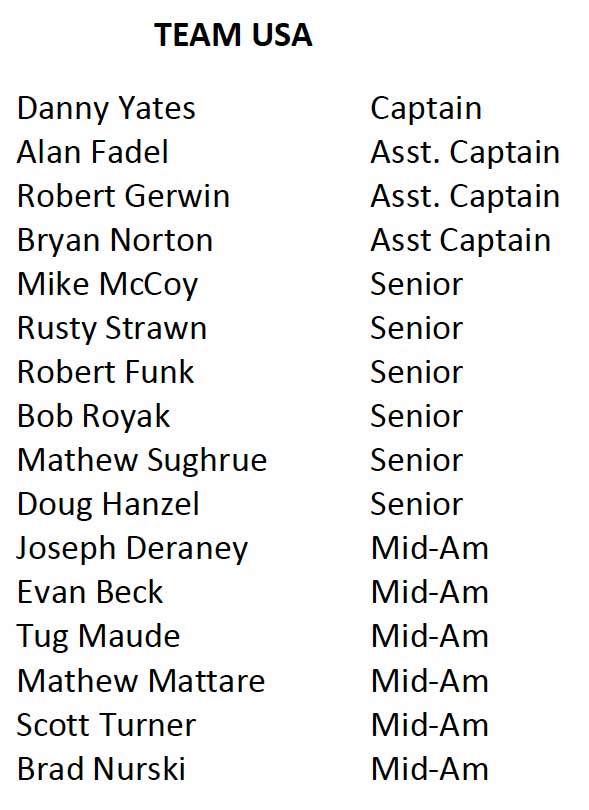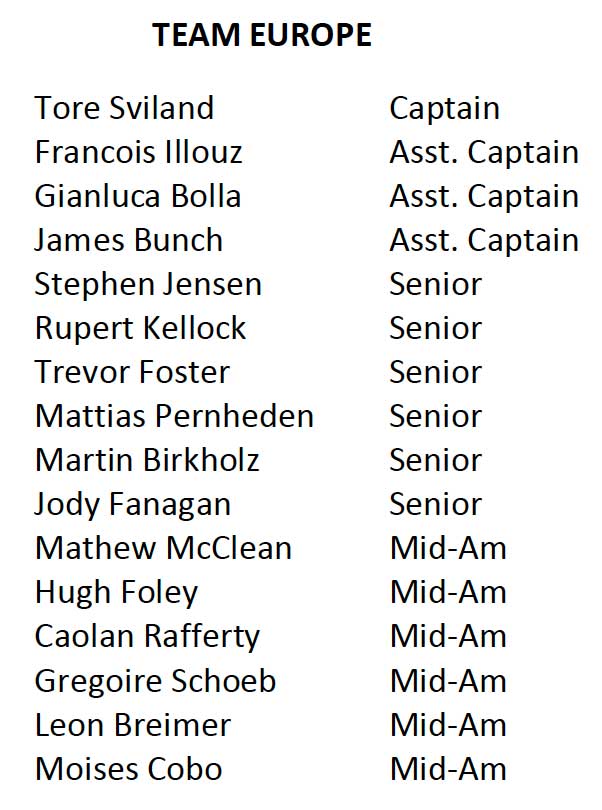 About Amateur Golf Alliance: The Concession Cup Match was originally designed to bring top mid-amateur and seniors from across the USA and GB&I to compete in a Ryder Cup style event. The 2022 version of the Matches will see the expansion of the GB&I team to now include players from continental Europe. When played in 2024 the Match will include a women's side. The "AGA" other mission was established to support and promote the amateur game via competitions providing amateur golfers throughout the globe more opportunities to compete at national and international events, and fund research and initiatives that will enhance the landscape of competitive amateur golf. The AGA is managed by Anera Sports out of its offices in Dallas, TX. 
Real Club Valderrama: Opening in 1974 and designed by Robert Trent Jones Sr., Real Club Valderrama will host the 2022 Concession Cup for its first trip overseas. The Concession Club, in Bradenton, Florida, played host to the tournament in 2014, 2016, & 2018, and will play host again in 2024. Valderrama, originally known as Las Aves, hosted the 32nd Ryder Cup in 1997, the first two editions of the World Golf Championship (American Express Championship), currently hosts the DP Tour's Andalucía Masters, and is continually ranked among the top-rated golf courses in mainland Europe and the World.